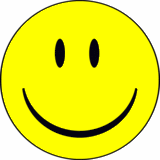 Has Spring sprung at your house yet??
The Good:
All accounts have been paid by retirement loan
G-man will have MORE OT in the coming weeks....this is so rare to have this much at once.
I had a very nice birthday.
Water bill arrive, and it was right where I thought it would be (and we already have the money saved to pay it)

The Bad:
G-man didn't account for a few things when buying birthday stuff, and I had to transfer money from our savings account.
Forgot about a few phone calls, so I still am not caught up on my scheduling/rescheduling.
The Ugly:
It was cloudy last night....so I couldn't see the SuperMoon last night. I was really really bummed.

You know the deal....what are your GBUs this week???