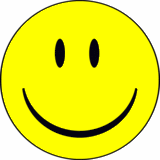 Happy Easter, to those who celebrate.....Happy Sunday to those who don't.
The Good:
Loan papers arrived yesterday.
Root canal is done and now need the crown.
Tickets for Sesame Place arrived.

The Bad:
After surveying the coming weeks....every weekend is BOOKED until Memorial Day.
Paid the speeding ticket that G-man got.
Still waiting on FSA reimbursement for root canal.
The Ugly:
Boss and I are disagreeing about ALOT of things.

Slip cover on LoveSeat has a few small holes, which Bossy has discovered, and is making larger....may need to replace them sooner than later (hopefully I can just stitch it before it gets too big).
You know the deal....what are your GBUs this week???