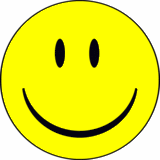 Any one else wondering where March went????
The Good:
We bought our new mattress, and it will be delivered this week.
We can apply for our retirement loan anytime now.
My flowers are starting to sprout!!!

The Bad:
Still have loose ends on paperwork.
Gas prices are UP.
We ALMOST bought new furniture yesterday (but we didn't. Impulse shopping!)
We splurged a little and bought new pillows to go with the mattress.
We are considering buying concert tickets....between tickets, babysitter, parking, and probably something for dinner....we are looking at a $500 night.
The Ugly:
My root canal is still causing problems.

We have to go grocery shopping, and payday isn't until Wednesday.
My side totals are off. We used our CC for a few things, plus interest that just hit....UGH. The mattress is throwing it off some, but we were accounting for that in our upcoming loan. I am just upset looking at the numbers.
You know the deal....what are your GBUs this week???