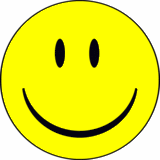 The Good:
Realized that the retirement loan is almost done!
Both G-man and I have "found" money through the state (old paychecks from our part time jobs TEN years ago!!!)
The Bad:
Gas prices have jumped and it stinks!
My house looks like a tornado went through it.
Missed a day of work because of poor planning.
The Ugly:
Overspent on food this week
Didn't budget well for Sassy's upcoming Father/Daughter dance (budgeted for the dress and shoes...but hair has taken on a life of its own!)
You know the deal....what are your GBUs this week?????