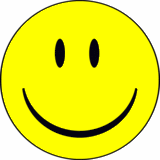 Hey, this is like 3 weeks in a row that I posted my GBU....go me!
The Good:
Bossy's party went well. I will post on that separately, but I am so happy that a good time was had by all. And it came in under budget! Today's is Sassy's.
My paycheck this week was a little higher due to extra hours.
Audit at work was fine (stressful, but fine).
Gas prices are coming down.
We are finally in October....

HALLOWEENIE

IS COMING!!!
The stress over the parties took a toll on me and I actually got physically sick.

My original "31" list is MIA. No idea where it went. But I think I know what was left...but honestly, I have a new list going in my head already. (UPDATE: Found it! 8 things left on it.)

The few things that are still up in the air around here are just nagging at me. The answers to those things will determine the answers for other things...and we can't move on to step 2 until step 1 is done.
The Ugly:
Vet bill came in at $248. Kitty #1 is great. Kitty #3 is FAT. No surprises there.
Needed to do a restocking run to Wal-Mart.

My house is a mess again. *sigh*
You know the deal....what are your GBUs this week?????