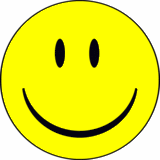 With only one more week to go in September, here are the highlights of the past week....
The Good:
Survived the non-stop meetings (I have a feeling this is going to be a permanent fixture for awhile)
Dropped off more stuff to Goodwill (we have dropped off about 20 bags so far).
Crossed a few more things off of the master "31" to-do list.
G-man continues to drag his feet on finishing paperwork on the car. This paperwork is worth a few thousand dollars. I am desperate to grab it back, but trying to let him handle it. My anxiety level is through the roof on this.

Probably have another 10-15 items to ADD to the "31" To-Do list....so I am almost back where I started.
The Ugly:
Bought some sandwich meat at the deli. 1.5 lbs of meat, and 3/4 lb of cheese. Cost: $23!!! And this is why I rarely buy sandwich meat.
Kids' birthday party is next weekend...of the 10 kids invited....so far only ONE is coming.
You know the deal....what are your GBUs this week?????