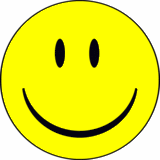 I need to find a new graphic.....
The Good:
We have limited grocery shopping to $70 this week (mostly milk, fruit, and lunch stuff)
We earned and extra $0.60 off per gallon on gas at one store, and are up to $1.10 off gas from the other store.
We got a $1.00 check from some audit on our home owners insurance (we had to laugh...probably cost more to process than the actual $1.00 value).
Decided against getting the furniture because it just isn't in the budget right now.
G-man was able to do a few maintenance things on his car himself...total cost was $40, which we had in our car fund.
G-man found his key to my car (it has been missing for 4 months! Would have been $250 to replace).

The Bad:
Once again, the curse of the 3-paycheck month hit and the dates that things are due don't line up with payday. A bunch of stuff will have to wait until next week to get paid.
Sassy has decided to live up to her name (but getting sent to bed early for lying seems to have cured it).

The Ugly:
Discovered just how many items of clothes don't fit the kids anymore! Who told them they could grow so much??
Stressing about value of the house....more on this another time.
You know the deal....what are your GBUs this week???