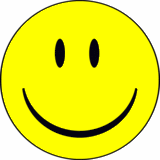 Thank GOODNESS this week is OVER.
The Good:

Good??? Something GOOD happened this week??? This is a tough one.
Bossy's room is 90% finished.
Got to see my brother.
The Bad:
Work is crazy busy....this was soooo NOT the week for other stuff to fall apart.
The Ugly:
DRAMA, DRAMA, DRAMA.
Several hundred dollars of unplanned expenses.
I PROMISE....I will let you in on the drama tomorrow!!!
You know the deal....what are your GBUs this week???