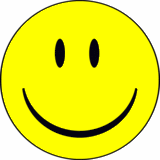 Happy February!!!
Not much exciting about this past week. But this coming week will bring all sorts of stuff with it!!!
The Good:
Decided on cell phone plan; staying with same carrier, so phones have a discount, and we don't have to start over with activation fees and such.
Haven't bought anything for our bedroom while I have been cleaning and decluttering.
G-man and kids WILL be going away President's Day Weekend!!!!!
The Bad:
Bossy was sick most of the week (he is better now).
Rough draft of taxes shows a very small refund for federal, and owing for state.
G-man's car battery is acting up and probably needs to be replaced.
G-man didn't get the 2 OT shifts he applied for in March.
The Ugly:
Weight loss is going nowhere.
Still haven't mailed stuff that needs to be returned!
You know the deal....what are your GBUs this week?????