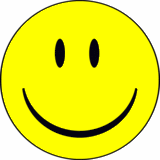 Trying to get back on the wagon!!!!
The Good:
My new car, Zippy, is home.
Still looking good on Christmas spending.
Realizing that we won't be able to do everything we want right now and learning to be ok with it
The Bad:
The wrath of the 3-paycheck month last month hit...where we had to use most of paycheck 1 in this month to cover bills that normally come from a different paycheck. The timing just is off. I have yet to figure out how to avoid this one (other than trying to be 2 weeks ahead consistently)

Sassy is sick....which is yucky in itself. But having to stock up on OTC meds....ugh.

Some how the attic got trashed again....due to G-man just throwing stuff up there!



The Ugly:
Having to adjust the budget to allow for the car....right before the holidays.
G-man's 2nd job paycheck has been small the past few weeks, and it is catching up with us.
Nothing Earth Shattering this week!!! Sorry folks.
You know the deal....what are your GBUs this week?????