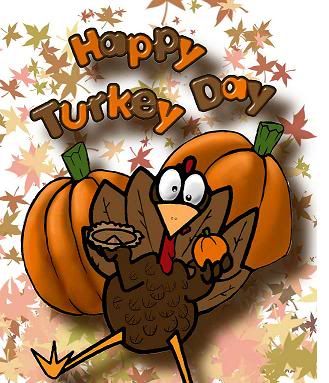 Gobble gobble everyone! From myself, G-man, Bossy, and Sassy.....we wish the entire bloggy world a safe, happy, and healthy Thanksgiving.
While our plans took a detour, we are all thankful to have as much as we do....food on the table, a roof over our head, warm clothes, and each other. Our day will be low key, and you know what....that is a-ok.
On our menu today is a Beer Brined Turkey (whom I named Ulysses S. Turkey, and is in the oven right now), mashed potatoes, sweet potato casserole, cornbread and sausage stuffing, wild rice and mushroom stuffing, asparagus, herbed carrots, corn, cranberry apple chutney (made by Sassy), and rolls. And of course, Pumpkin cheesecake, and Apple pie (made by Bossy).
I hope you all have a beautiful day.....no matter what comes your way!!!!