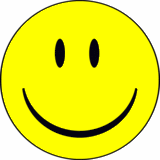 The Good:
Retirement loan is GONE!
Got paid for AdSense.
Discovered that there is a coin counting machine at a particular bank branch, which is free for customers of the bank (which I am...I just don't typically go to that branch).
The Bad:
Overbudget on Food and Gas this week.
Still waiting on a few tax things.
The Ugly:
Forgot to budget for upstart of new cell phone plan (new phone, paying for two months for that first billing cycle).
You know the deal....what are your GBUs this week?????